Lance Nuevo Ros: Property for rent in Mojacar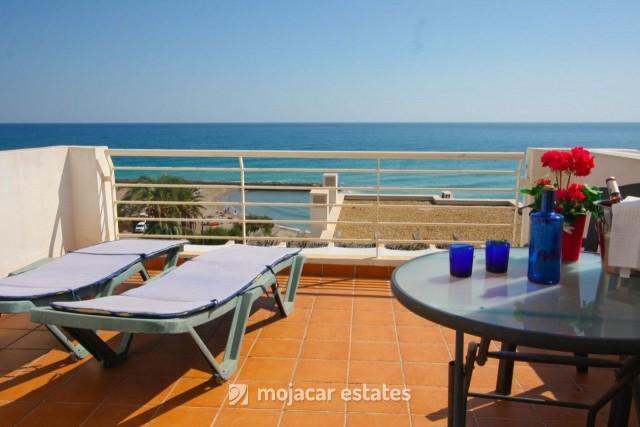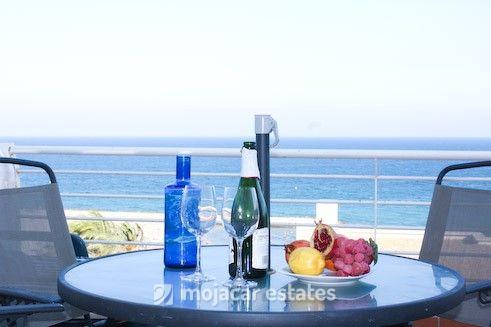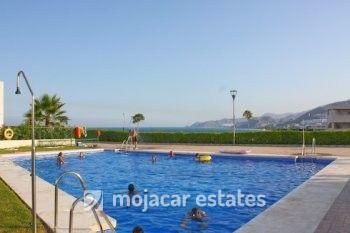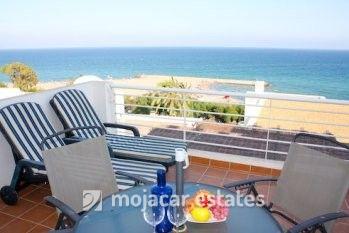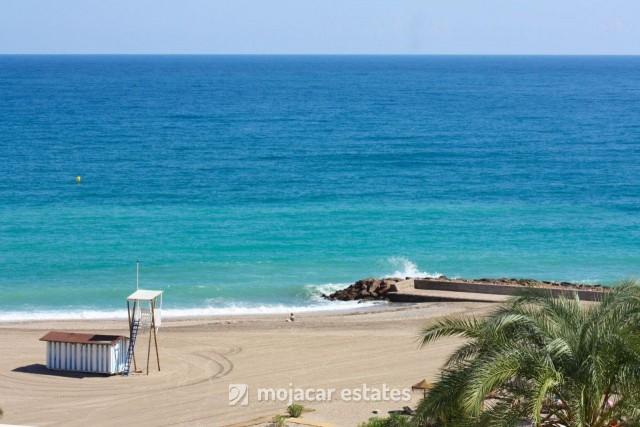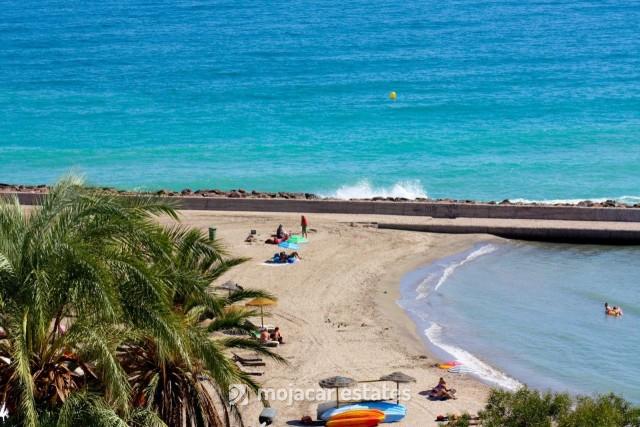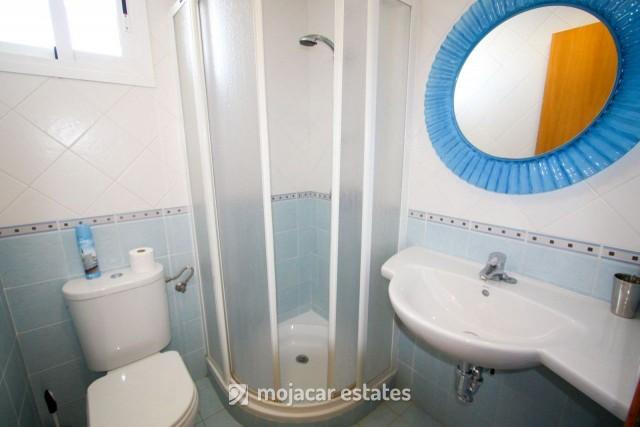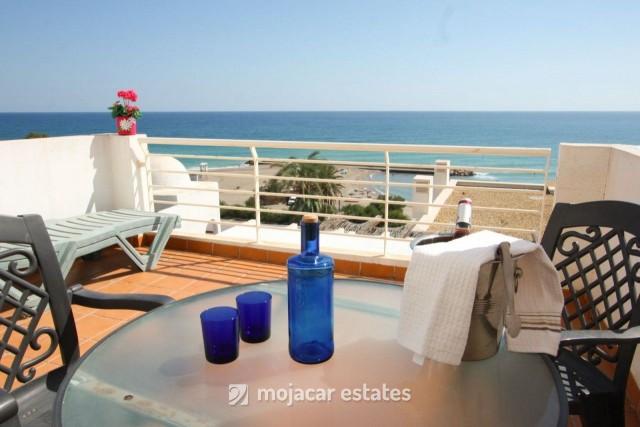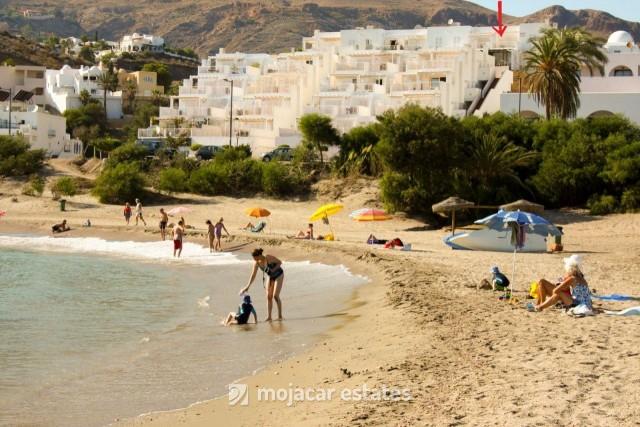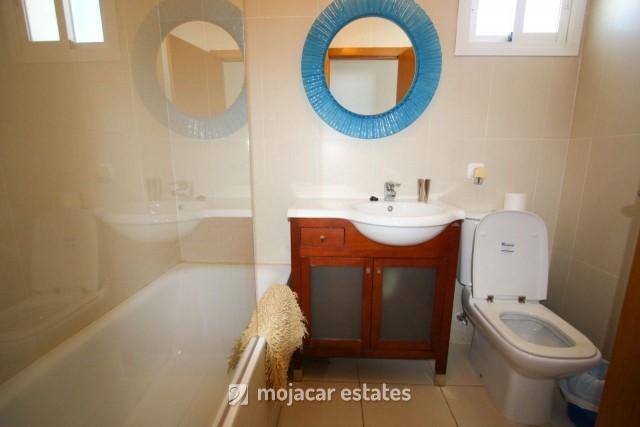 Description
Fantastic penthouse with 2 bedrooms & 2 bathrooms centrally located in Mojacar Playa with stunning sea views.

This beautiful top floor apartment is in a residential complex situated in sea frontline position facing the Lance Nuevo Beach, within very easy walking distance to shops and all amenities and with large community swimming pool , children's pool and underground parking space.
Access to property is via lift from the ground floor, level with street, via steps leading up to the pool area and you only need to climb one flight of steps to reach the entrance door that open in to entrance hall, separate fully equipped kitchen with washing machine, dishwasher, ceramic hob & oven, microwave, toaster, kettle, coffee maker and all kitchen utensils. Bright and airy lounge with dining area and double patio doos leading out to fantastic terrace with superb sea and coastal views, master bedroom with en suite bathroom and patio doors on to terrace, 2nd bathroom with shower cabin and 2nd bedroom with twin beds and mountain views
Centralised air conditioning, Wi Fi connection, TV & DVD.A quality accommodation in a perfect location with stunning views for an ideal holiday

Community swiming pools & Lift
Garage space
Centralised air conditioning
Wifi
Availability calendar
March - 2018
Su
Mo
Tu
We
Th
Fr
Sa
1
2
3
4
5
6
7
8
9
10
11
12
13
14
15
16
17
18
19
20
21
22
23
24
25
26
27
28
29
30
31
April - 2018
Su
Mo
Tu
We
Th
Fr
Sa
1
2
3
4
5
6
7
8
9
10
11
12
13
14
15
16
17
18
19
20
21
22
23
24
25
26
27
28
29
30
May - 2018
Su
Mo
Tu
We
Th
Fr
Sa
1
2
3
4
5
6
7
8
9
10
11
12
13
14
15
16
17
18
19
20
21
22
23
24
25
26
27
28
29
30
31
June - 2018
Su
Mo
Tu
We
Th
Fr
Sa
1
2
3
4
5
6
7
8
9
10
11
12
13
14
15
16
17
18
19
20
21
22
23
24
25
26
27
28
29
30
July - 2018
Su
Mo
Tu
We
Th
Fr
Sa
1
2
3
4
5
6
7
8
9
10
11
12
13
14
15
16
17
18
19
20
21
22
23
24
25
26
27
28
29
30
31
August - 2018
Su
Mo
Tu
We
Th
Fr
Sa
1
2
3
4
5
6
7
8
9
10
11
12
13
14
15
16
17
18
19
20
21
22
23
24
25
26
27
28
29
30
31
September - 2018
Su
Mo
Tu
We
Th
Fr
Sa
1
2
3
4
5
6
7
8
9
10
11
12
13
14
15
16
17
18
19
20
21
22
23
24
25
26
27
28
29
30
October - 2018
Su
Mo
Tu
We
Th
Fr
Sa
1
2
3
4
5
6
7
8
9
10
11
12
13
14
15
16
17
18
19
20
21
22
23
24
25
26
27
28
29
30
31
November - 2018
Su
Mo
Tu
We
Th
Fr
Sa
1
2
3
4
5
6
7
8
9
10
11
12
13
14
15
16
17
18
19
20
21
22
23
24
25
26
27
28
29
30
December - 2018
Su
Mo
Tu
We
Th
Fr
Sa
1
2
3
4
5
6
7
8
9
10
11
12
13
14
15
16
17
18
19
20
21
22
23
24
25
26
27
28
29
30
31
January - 2019
Su
Mo
Tu
We
Th
Fr
Sa
1
2
3
4
5
6
7
8
9
10
11
12
13
14
15
16
17
18
19
20
21
22
23
24
25
26
27
28
29
30
31
February - 2019
Su
Mo
Tu
We
Th
Fr
Sa
1
2
3
4
5
6
7
8
9
10
11
12
13
14
15
16
17
18
19
20
21
22
23
24
25
26
27
28
March - 2019
Su
Mo
Tu
We
Th
Fr
Sa
1
2
3
4
5
6
7
8
9
10
11
12
13
14
15
16
17
18
19
20
21
22
23
24
25
26
27
28
29
30
31
April - 2019
Su
Mo
Tu
We
Th
Fr
Sa
1
2
3
4
5
6
7
8
9
10
11
12
13
14
15
16
17
18
19
20
21
22
23
24
25
26
27
28
29
30
May - 2019
Su
Mo
Tu
We
Th
Fr
Sa
1
2
3
4
5
6
7
8
9
10
11
12
13
14
15
16
17
18
19
20
21
22
23
24
25
26
27
28
29
30
31
June - 2019
Su
Mo
Tu
We
Th
Fr
Sa
1
2
3
4
5
6
7
8
9
10
11
12
13
14
15
16
17
18
19
20
21
22
23
24
25
26
27
28
29
30
July - 2019
Su
Mo
Tu
We
Th
Fr
Sa
1
2
3
4
5
6
7
8
9
10
11
12
13
14
15
16
17
18
19
20
21
22
23
24
25
26
27
28
29
30
31
August - 2019
Su
Mo
Tu
We
Th
Fr
Sa
1
2
3
4
5
6
7
8
9
10
11
12
13
14
15
16
17
18
19
20
21
22
23
24
25
26
27
28
29
30
31
Rental Conditions - Mojacar Estates S.L.
Important:
Click here to read our rental conditions
Method of Payment
On receipt of the deposit for your holiday rental, Mojacar Estates will understand that you have accepted the terms and conditions of this reservation. To confirm your booking we need a deposit of 25% of the total rental price payable within 7 days. The remaining 75% will be paid 6 weeks before arrival. The full rental price needs to be paid on reservation when you book within 6 weeks before arrival date.
Damage deposits
Apartments/townhouses 1-2 bedrooms – €200
Apartments/townhouses 3-4 bedrooms – €300
Villas – €500
Groups – please check price
Guests living outside Spain will have to pay damage deposit by credit card. (no surcharge)
Damage deposit can be paid on arrival day or prior to arrival If you arrive outside office hours. It will be refunded within 48 hours after departure once the property has been checked by our maintenance department.
Payments made by credit card will be charged a fee of 1.35%.
Bank details
Bank:
Banco Popular,
Centro Comercial, Mojacar Playa
04638, Almeria, Spain
Account holder: Mojacar Estates S.L.
Account Number: 0075 3213 78 0600496707
IBAN: ES70 0075 3213 78 0600496707
Swift Code: POPUESMM
Cancellation Terms
This booking can be cancelled, in writing, by the main person in the group. The 25% deposit is not refundable. Cancelling 41-30 days prior to arrival incurs in a 50% charge of the total rental price. Cancellations made within less than 29 days will incur in a 100% charge. All refunds will suffer a deduction of the corresponding bank charges.
We reserve the right to make changes or cancellation on reservations due to circumstances beyond our control. If for unforeseen reason the property you have booked is no longer in our books we shall do our best to accommodate you in a similar property and if we are unable to find an alternative holiday home we shall refund all the moneys already paid.
Travel Insurance
Mojacar Estates under no circumstances will be made responsible for loss or damage of personal belongings that may occur during your stay. Travel insurance is recommended to cover any possible emergencies and any cancellations of your holiday arrangement.
Important
Our extensive portfolio does not allow us to check properties at the exact time of departure. Please note that all damages that may occur during your stay must be reported to our office immediately. Complaints about cleaning or maintenance should be immediately reported to the office so that they can be dealt with straight away.
Arrival and Departure Terms
Time of arrival, around 2pm, unless by prior arrangement in writing.
Time of departure, the property must be vacated by 10am, unless by prior arrangement in writing.
What to do with the keys on departure:-
Please deliver the keys to our office. If you are departing out of office hours, please put the keys in the white post box outside of our office, next to the main door.
A charge of €50 will be made if we do not receive the keys on your departure.
Meet and Greet Terms - No Fee
1. Keys to your holiday accommodation and a location map are available for collection in the office of Moacar Estates, during the following hours:-
Monday to Friday 10am - 5.30pm – Saturday 9.30am – 1.30pm
2. Out of office hours we will leave the keys and the location map to your holiday accommodation in a key safe, outside of our office provided full payment of rental and damage deposit has been previously made. One week before your arrival, we will give you the security code and instructions for the key safe.
Meet and Greet Terms - Fee Applicable of €30
Should the above 2 options not be suitable for your requirements, we can offer you the following greeting service for out of office hours: Monday to Sunday up to midnight.
We will meet you either at our office or, at another suitable meeting point in Mojacar (by prior arrangement) and escort you to your holiday accommodation, ensuring your safe arrival. If you have opted for this service, we will give you a telephone number to ring, to confirm an approximate arrival time.
Occupation rights
Please note that should the maximum capacity permitted in this property be exceeded, we have the right to cancel the booking immediately and vacate the property. Cancelling the booking with immediate effect will also apply if you do not comply with the internal rules of the community.
Property Information
Television
In general, the properties have a television but we can't guarantee what channels, if any, can be seen in your language.
Properties with Air Conditioning
The air conditioning is there for your convenience. However, it is costly to run. Please do not run this unnecessarily. In order to have an adequate use of the air conditioning systems make sure all windows and doors are closed when the units are on. Please switch off AC when leaving the house. Damage or loss of remote controls will be deducted from your damage deposit.
Linen
Beds and towels will be prepared for the amount of people the accommodation can hold.
There will be a weekly change for reservations of at least 2 weeks. We do not provide linen change after 1 week unless the reservation is for at least 14 nights.
Beach towels are not provided.
Do not remove towels, sunshades or sun beds from the property.
Cleaning
The property will be cleaned and prepared for your arrival. If during your stay you would like extra cleaning, our cleaners are available on request, at a charge of 12€ per hour. The hours have to booked and paid for in advance at our office.
Your Holiday Complex
Please respect the "Spanish Siesta" (2-5pm) and night hours in all the communities.
Pets
No pets are permitted in any of our properties.
Rubbish
It is important in a hot climate to take away rubbish to the green bins (situated on the main beach road of Mojacar) on a daily basis. This will help alleviate problems with unwanted visitors (ants, flies, cockroaches etc) to your holiday home.
If rubbish is left in your apartment on departure we will retain 30€ of your damage deposit.
Departure
Damage deposit will not be returned in full if you do not follow these points:
Rubbish - Remove all rubbish from the property
Fridge - Empty fridge and freezer
Kitchen - Wash up all kitchen items and put them away
Cleaning - Tidy up before leaving
Departure - Max. 10 am
Keys - Return keys to our office
Make sure you close all windows and doors, fold sunshades and awnings.
Extra Services Available
Cleaning €12 per hour
Airport taxi price on request
Food pack price on request
Please ask if there are any other items not listed above that you would like us to try to arrange for you. We will try our best to fulfil your requirements during your stay.
Company liability
Mojacar Estates cannot be held personally responsible for any death, injury, accidents, fire, break ins or any other damage by whatever cause, unless it can be proved that it is due to the negligence of Mojacar Estates. Our maximum liability in any claim will be limited to the cost of you holiday.
Personal Belongings
The owner and Mojacar Estates under no circumstances are responsible for loss or damage of personal belongings that may occur during your stay. Travel insurance is recommended.
Parents responsibility
Parents are responsible for the safety of their children whilst staying at the rented property. We cannot accept any liability due to parental negligence.
Law & Jurisdiction
Any matters arising from the conditions of this booking will be resolved in the Vera Courts.
Add to shortlist
Lance Nuevo Ros — #ME 1120
Apartment for rent in Mojacar, Almeria
Tourism registration number
Pending
From €450/pw ~ £392/pw *
1 Jun to 30 Jun — €550/weekly
1 Jul to 31 Jul — €650/weekly
1 Aug to 31 Aug — €700/weekly
1 Sep to 30 Sep — €550/weekly
Contact us for special winter rates
2 bedrooms
2 bathrooms
Sleeps: 4 people
General Features
Sea Views
Garage
Private parking
Wi-Fi
Television - terrestrial
Air-conditioning
Lift
Washing machine
Iron
Kitchen Features
Separate Kitchen
Dishwasher
Fridge
Oven
Microwave
Coffee maker
Toaster
Kettle
Kitchen utensils
Contact us
All fields are required